El computer aided design (CAD), is gaining strength in the world of free software, gone are the days where there were only proprietary alternatives, today, there is a large number of programs that implement CAD that are compatible with Linux and that are offered with free licenses. One of them is Leocad excellent software that allows us create LEGO-type constructions.
What is LeoCAD?
It is a free tool, developed by Leonardo Zide, which makes use of the computer aided design (CAD) guidance on create LEGO constructions, easily, quickly and with professional finishes.
The tool has support for standards related to the modeling of LEGO-type buildings and its use is quite simple, mainly it is enough to drag and drop pieces that are then oriented and configured according to the designer's taste.
In recent days, the developer of this spectacular tool has corrected a large number of bugs and improved various functionalities, as well as the number of tutorials in the tool. official website of the application, so learning to use it will be much easier.
LeoCAD features
The developers of Leocad ensure that their tool is optimized for large models, giving as an example a model of the Tower's bridge (Tower Bridge) in which more than 4.000 pieces were used:
In the same way, the tool allows us to create building instructions, an excellent tool to teach the assembly and assembly of a Lego construction:
Likewise, we can enjoy multiple views of our Lego construction, speeding up the construction process and giving an addition to take care of the details.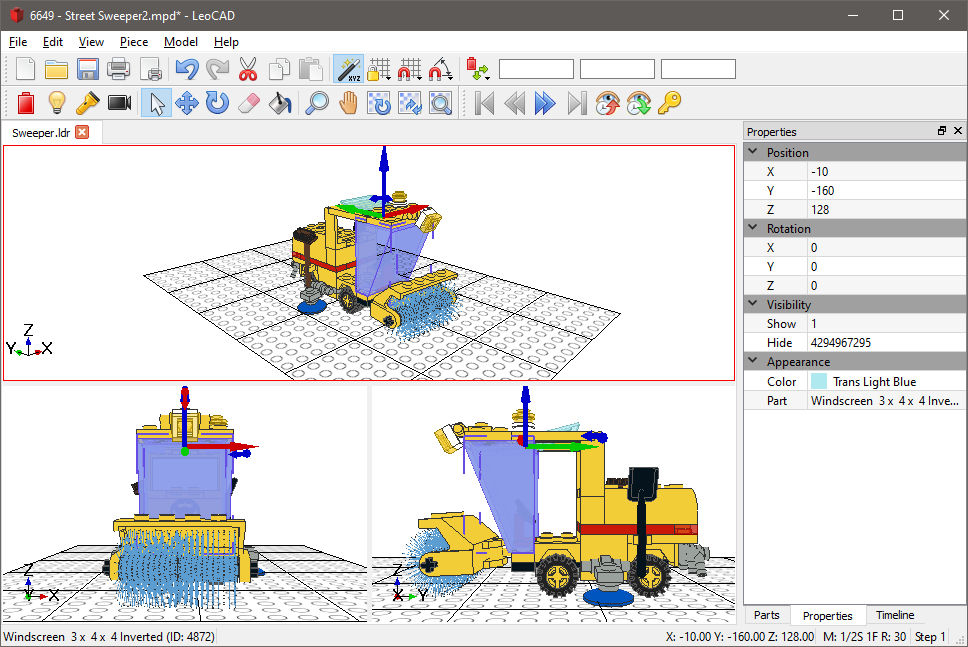 We can also highlight the following characteristics of this tool:
Intuitive interface, with functionalities for novice and advanced users.
Short learning line.
Multiple options for the work of each piece (rotation, coloring, textures, among others).
Compatible with LDraw, which is the standard file format for creating Lego models.
It allows access to the LDraw library which has more than 10000 Lego pieces, which are constantly updated.
Import and export LDR and MPD files, allowing you to easily share your projects on the internet or edit those that others have distributed.
Possibility of printing the models on 3D printers.
It is in the repositories of the major Linux distros.
It is cross-platform (Linux, Windows and OSX).
Free and open source.
How to install LeoCAD
The installation of LeoCAD is quite simple in most of the Linux distros, in case you want to do a manual installation of the tool you should follow the following steps:
Install the required dependencies

Go
GCC C ++ compiler
QT4 or QT5 packages
Zlib package

Then you must run the following commands:
git clone https://github.com/leozide/leocad.git cd leocad qmake leocad.pro make
Those who wish to install using the package managers of each distro can follow the following procedures as appropriate:
Install LeoCad on Arch Linux and Derivatives
yaourt -S leocad-git
Install LeoCad on Ubuntu and Derivatives
sudo apt-get install leocad
Install LeoCad in openSUSE and Derivatives
We can make use of the official package of LeoCAD for Opensuse
Install LeoCad on Fedora and Derivatives
sudo yum-install leocad
Conclusions about LeoCad
This excellent tool that allows us create LEGO-type constructions, it replaces in a very professional way the various proprietary tools created for the same purposes, highlights its high compactness with the various modeling standards, and its use is quite simple, but scalable according to the skills of each user.
The tool can be used for both amateur designs and more professional projects. Quickly share your creations and make use of third-party creations, in the same way, do not worry about the projects you have done in other tools, the exported file is probably compatible with LeoCad.