| | |
| --- | --- |
| | Virtualbox is a GPL licensed virtual machine or program used to "virtualize" (install one operating system inside another) an operating system. In my opinion, this program is more intuitive than VMware, and it works like a charm, in addition to managing the resources of our machine very well. |
What is Virtualbox
Oracle VM VirtualBox is virtualization software for x86 architectures, originally created by the German company innotek GmbH. It is currently developed by Oracle Corporation as part of its family of virtualization products. Through this application it is possible to install additional operating systems, known as "guest systems", within another "host" operating system, each with its own virtual environment. That is, thanks to Virtualbox, we can create a "virtual machine" inside our Ubuntu and install and run Windows as if it were just another application. We can do the same in reverse, with Windows being the "host" system and Ubuntu the "guest".
Among the supported operating systems (in host mode) are GNU / Linux, Mac OS X, OS / 2 Warp, Microsoft Windows, and Solaris / OpenSolaris, and within them it is possible to virtualize the FreeBSD, GNU / Linux, OpenBSD operating systems , OS / 2 Warp, Windows, Solaris, MS-DOS, and many others.
The application was initially offered under a proprietary software license, but in January 2007, after years of development, VirtualBox OSE (Open Source Edition) emerged under the GPL 2 license.
How to install Virtualbox on Ubuntu
There are several user interfaces for Virtualbox, I am going to recommend installing the one for Qt, which in my opinion is the most complete and easy to use.
We open a terminal and write:
sudo apt-get install virtualbox-qt
Once installed, you can find it under Accessories> Virtualbox.
How to create a virtual machine
The first thing we have to do is create the virtual machine where we will then install the "guest" operating system. In practical terms, this virtual machine is nothing more than a file that we will have to host somewhere. This file will contain all the information and space necessary to allow the installation of the "guest" system.
To create the new virtual machine, once we have the program open, we click the button New. The virtual machine creation wizard appears. Each point that follows is a screen of this wizard:
1. The first screen welcomes us. We give the button Next.
2. The second screen asks us for the name and type of operating system we want to install. In our case, we can choose Microsoft Windows y Windows XP. In the name we write Windows.
3. The third screen asks us the size of the base memory. Generally, the default option is adequate. However, if you have a lot or a little memory, you can change this setting. For example, I have 2GB of memory and I almost always set this option to 512MB.
4. The fourth screen asks us in which virtual machine to install the guest OS. The first time we have to tell it that we want to install the OS on a new machine. However, in future opportunities where you want to format that virtual machine and install everything from scratch, you can choose it from the list. As I said, now we should choose Create new virtual disk.
5. The new virtual disk creation wizard appears. In the first screen we have to choose the type of storage. Generally, it is advisable to choose
Dynamic Expansion Storage
. This means that if your disk is going to have 3 GB the file does not always occupy that space but rather occupies
but also
that amount of space.
6. The screen that follows asks us about the size of the disk to create. This option depends on your needs. 5-10GB is more than enough to install Windows and a few heavy applications. In option Location you can choose where to save the file of your virtual disk. This is very convenient since many times the space that you dedicated to your Linux partition is not large enough to also house your virtual machine.
How to set up your new virtual machine
To configure the newly created virtual machine you just have to choose it and click on the button Configuration. A window will open in which we can change all aspects of the configuration of our virtual machine. Each of them is quite self-explanatory, so I will focus only on a few that are not so easy to know what they do or how they are configured.
Storage
From here you can control the disk configurations of your virtual machine. Generally, there are 3: your virtual disk, your cd-rom and your floppy drive. Here the element that one usually modifies is the cd-rom. From here we tell the virtual machine to "put" the ISO image of our Windows at startup. In this way, we can install Windows in our virtual machine without problems.
Then, we click on the CD icon within the storage tree. Once the cd-rom is selected, we click on the button next to the option CD / DVD device.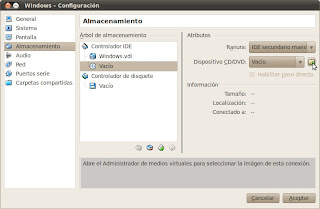 A window will open from which we will be able to add the ISO images of the different OS that we want to test. To add one, let's Add.
Finally, we select the ISO image and that's it.
What we just did is simulate inserting the Windows CD (assuming we choose an ISO image from the Windows CD) at boot. This is a necessary step to be able to install Windows in our virtual machine.
This is also very useful for testing Linux distros. Sure, you can lower the ISO of a distro you want to try. Then you tell your virtual machine to boot up by reading this ISO, say, Linux Mint 9. When you run the machine you will be able to test Linux Mint as if it were a Live CD, just as you could test it on a "real" machine. What's more, if you like it, then you can actually install it on your virtual machine. The end result would be this: you still have your Linux distro installed as usual, only now you will be able to run Linux Mint 9 and test it as if it were just another application. Interesting, right?
Shared folders
If you want your virtual machine to be able to access a folder on your "real" machine, you just have to add the path of that folder in this option.
To do this, click on the button that has a folder and a +, as seen in the following screenshot:
How to run the virtual machine
Well, this is the easiest. Choose your machine from the list on the main Virtualbox screen and press the Start button. Voila!