| | |
| --- | --- |
| | For various reasons, you may find yourself having to run a Windows program on Linux. It may be that there is no version for Linux, that the version for Windows is better or more professional ... or simply your favorite. It may also be that you need to use that program because it is the "standard" of the industry you work in or because no Linux program supports the type of files or documents created with your Windows program on another computer. |
Introduction
Before starting with the instructions, I think it necessary to make a brief reflection: once you install Linux there are many ways to run Windows applications, there is even the possibility of installing Windows in a virtual machine, which you can run directly from Linux.
However, Wine is NOT an emulator, as its name says (Wine Is Not an Emulator, hence its acronym). This means that a Windows application that you run with WINE could, in fact there are several recorded cases, run much lighter on Linux than on Windows.
On the other hand, although in some cases it may be convenient to create the happy virtual machine and install our copy of Windows and then our program in it, this can also be a problem. First of all, because of the enormous amount of resources (disk space, memory and processor) that this process would consume. Second, Windows is not free software, and to install it, you are supposed to have a genuine version. Otherwise, you wouldn't be escaping the patent problem with Windows.
To learn a little more about Wine, I recommend you read its Documentation, Wiki, How-To for Beginners and the document «Debunking Common Myths Related to Wine«.
Install Wine
In Ubuntu:
sudo apt-get install wine
In Fedora:
yum -y install wine
In the download section you can find the latest Wine packages for other popular Linux distributions such as Mandriva, Slackware, Debian, OpenSUSE, etc.
Run and install Windows programs
Once installed, Wine will run when you double-click on any .EXE file. In addition, it will allow you to install programs, as if you were in Windows and it will put the shortcuts in the main menu under the category «Wine».
Despite what many people believe, Wine is used not only to run "simple" Windows applications, but even complex games. What's more, it has been proven that terrible games like Sim 3, Half Life 2, Command & Conquer 3, Star Wars: Jedi Knight, or important suites like Microsoft Office work perfectly.
It won't let me run my program / installer! Sniff sniff…
As I suppose you are aware, Linux is a system that is managed through privileges granted to users. This allows only certain users to do certain things. The same goes for files. By default, no .EXE file downloaded from the internet is "executable", until the user indicates otherwise.
If when trying to run the file you see this message:
Then all you have to do is right click on the file. I chose the Properties option. Once there, go to the Permissions tab and enable the Allow the file to run as a program option:
I have other problems running my program
In case the application in question does not run as it should or has problems, I recommend entering the Wine Applications Database to see the comments of other users and their experience running that program using the different versions of Wine. Each installed and tested program has a ranking. If the program you are looking for does not appear in the list, it is a good opportunity to collaborate and upload your impressions.
Uninstall programs in Wine
This is very easy. Go to Applications> Wine> Uninstall Wine software.
From there you will be able to easily remove the installed program. You can also install new programs using this tool, although it may be easier simply by double clicking on the installer in your file explorer or directly from the download window of your internet explorer.
Where is everything installed?
By default, all programs will try to install themselves on your C disk. The question is, what is my C disk? Where are all the files corresponding to the Windows applications installed with Wine actually stored? The answer is simple: ~ / .wine / drive_c. That is, in your home there is a hidden folder called .wine in which all the files on your disk C are stored. Actually, as you can see, it is simply a folder that Wine calls "Disk C".
Remember that you can always install your programs in other locations. This is especially useful if you have little space on the disk or partition where you have Linux or your Home folder installed.
Configure Wine
Setting up Wine is easy. Go to Applications> Wine> Configure Wine.
From this window you will be able to tell Wine which version of Windows to imitate (Windows 7, Vista, XP, etc.). In addition, you will be able to indicate which sound system it should integrate and work with (ALSA, OSS, Jack, etc.), which can be very useful when working with professional Audio editing programs. You can also change from here the path where the "C disk" is stored, the graphical optimizations and the way in which the integration with the desktop will be carried out.
I am afraid of viruses
It is not fair that Windows users get all the fun, as everyone knows Linux viruses practically do not exist. Some time ago, there was a kind of experiment to run windows viruses on Linux with wine.
5 of the most harmful viruses tested (Klez, My Doom, Sobig, SCO Worm, Some Fool) and the results are not very encouraging, none were able to spread and also only one could affect the linux operating system itself.
In summary, you do not lose security by running Windows applications using Wine, on the contrary, you will be much safer than if you ran that same application in Windows.
Winetricks
Sometimes installing a Windows application on Linux using Wine can be a difficult task, especially since some of them require external libraries.
Winetricks is a quick and easy script to download and install these redistributable libraries that are sometimes needed for everything to work wonderfully.
How do you install?
wget http://www.kegel.com/wine/winetricks
How do I run it?
Once you have obtained Winetricks you can use it by typing in the terminal:
sh winetricks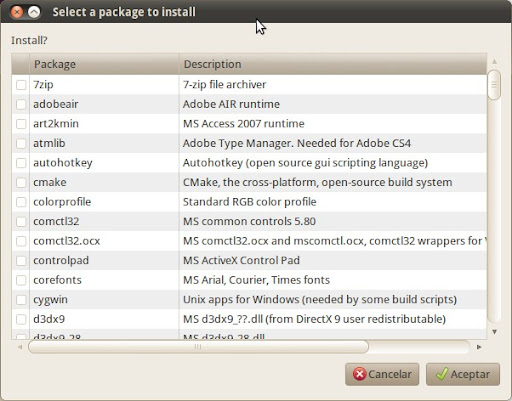 If you run it without parameters, a winetricks screen shows a GUI with a list of available packages. If you know the name of the package (s) you want to install, you can add the name (s) to the Winetricks command line and immediately start the installation process. For example,
sh winetricks corefonts vcrun6
This will install both corefonts and vcrun6 packages.
Wine-Doors
Wine-Doors is an excellent little program that allows you to install very popular Windows applications easily and without problems. This saves you from having to google to see what configuration to use, etc.
To install it, you just have to go to the download section of the official website and choose the package that works best for your Linux distribution.
An example: uTorrent using Wine
No i use Transmission or the incredible Deluge. If you didn't try them, please do so. But, just to show what a Windows application looks like in Ubuntu using Wine, here is a screenshot using uTorrent.