The new version of the decentralized platform for video hosting and video streaming organization "PeerTube 2.2"In which various changes are highlighted and of which most of them are focused on improving the interface platform user, as well as for uploading videos to it.
For those who are unfamiliar with the platform, they should know that it is offered as an independent alternative to providers like YouTube, Dailymotion and Vimeo, using a P2P-based content distribution network and linking visitor browsers. The developments of the project are distributed under the AGPLv3 license.
PeerTube is based on the use of BitTorrent-Client WebTorrent, which runs in a browser, and uses WebRTC technology to establish a direct P2P communication channel between the browser and the ActivityPub protocol, allowing disparate servers to be linked to video on the federated network where visitors participate in the content delivery and have the ability to subscribe to channels and receive notifications of new videos. The web interface provided by the project is built using the angular framework.
What's new in PeerTube 2.2?
This new version of the platform is notable for having the ability to import audio files, what allows users to distribute their arrangements or podcasts via PeerTube without creating a video chunkHowever, if they wish, they can attach an image to the sound file.
Another notable change from PeerTube 2.2 is the improved search panel, which featured tool tips for commands for separate channel and video search. For example, to search for channels linked to a domain, the construction "@ channel_id @ domain" is proposed.
The Settings button has been added to the menu on the left side of the screen for offline users, through which you can configure PeerTube to suit your preferences, for example, specify whether to use P2P mode and show thumbnails of adult content, configure filters by language, activate autoplay and select design theme.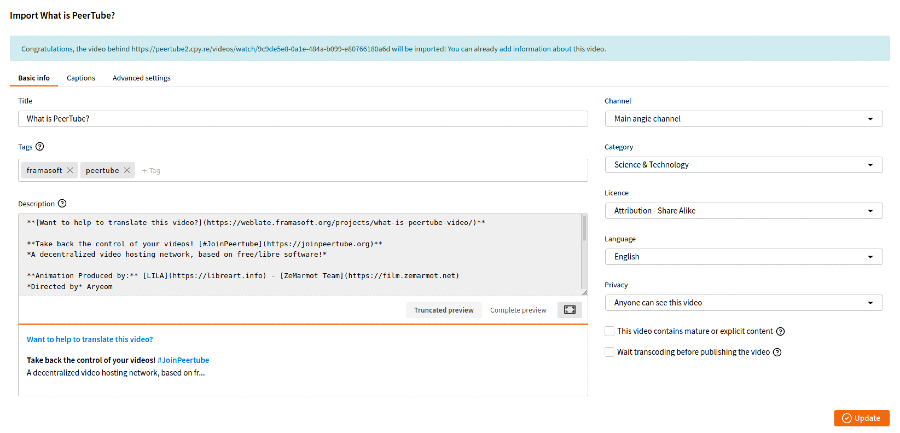 To upload videos to PeerTube you can now use the drag and drop interface to move the file with the mouse instead of calling the "Select File" menu.
A new interface to manage duplicate videos for the administrator, which allows to see a list of videos of the current node that are duplicated in other nodes, as well as a list of videos of other people duplicated in the current node. Visual graphs are proposed to assess the disk space occupied by other people's duplicates.
In addition, Improved moderation and complaint handling interface for invalid videos is highlighted. Filters for various types of complaints were added, buttons for quick blocking of videos and accounts, thumbnails were displayed on the graph, and quick access to embedded video was added.
API calls have been added to create moderation plugins that perform actions such as deleting a video, confirming a URL or torrent import, hiding a site or account, and maintaining a video blacklist.
The administration interface has support to automatically replenish the list of monitored sites based on a similar list elsewhere. Including public lists of nodes for importing links, you can upload them through services like github, gitlab, and pastebin.
Of the other changes that stand out:
Email notifications provide the ability to use HTML markup.
Added the ability to create plugins with the implementation of external authentication methods.
Three plugins are proposed for authentication with LDAP, OpenID and SAMLv2.
Improved text editor interface with video description that supports discount markup. Added full screen editing mode.
Additional information about the file is displayed in the video download window.
Enhanced API to control the playback of embedded video on sites.
Finally, if you want to know more about it, you can check the full list of changes as well as the download links In the following link.